I am writing in my official capacity of grump!!! No seriously, with the shops and stores around us filling with Christmas gifts and decorations, the holiday season moving up on us quickly for many the time from Thanksgiving onwards will be spent in a headlong rush towards Christmas with hardly a time to breathe.... I am looking at the possibility of finding little gaps in the day or the week to spend in extravagant
unbusyness
( a wonderful phrase coined by a fellow
revgal
)...
So given those little gaps, name 5 things you would do to;
1.to care for your body
I have just started this, having neglected any form of regular exercise over the last year I have returned to tai-chi classes and swimming, I feel better after only two weeks. I have more energy and a more positive outlook on life, though I think this is also due to a true lifting of depression which has hung over me like a cloud for the past year and a half.
I have also taken a dietitians advice and am supplementing my diet with vitamins and minerals, I was surprised by the need for this as we eat very healthily, but apparently stress inhibits our ability to absorb nutrients and so supplementation really helps!
2. to care for your spirit
To practise centring/ contemplative prayer on a daily basis, there have been times in my life when I have managed this and I have felt closer to God through the exercising of this discipline... but it really is a discipline and I easily let it slip, so a sense of determination is needed!
3. to care for your mind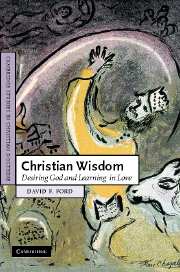 I have just purchased David Ford's book
Christian Wisdom
, and it is currently sitting on my desk, longing to be read... the challenge comes in making the time to read it!!!
4. to bring a sparkle to your eye
To spend more time enjoying life with Tim :-)!!! Working together sometimes means that work gets transferred everywhere, we need to make a concerted effort to leave work behind at times!
5. to place a spring in your step
To take time to walk on the beach, I love the beach in winter, but when life gets busy I often neglect this life giving habit... so now I'm off for a walk on the beach!

Enjoy the time to indulge and dream.... and then for a bonus which one on the list are you determined to put into action?
erm... if I don't make time for any of the others I think I'll really make time for prayer so that I don't end up wrung out by January.